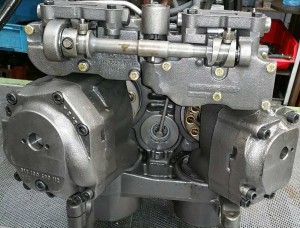 The VARIO hydraulic continuously variable transmission was invented by the tractor brand FENDT in the 1980s, this innovative hydro-mechanical transmission was introduced by Fendt in 1996.
This type of hydromechanical transmissions is very complex and specific, we had to spend a lot of time to understand its operation and set up repair and testing procedures, and this is done in complete safety by a hydraulic expert
A question? A need? Contact-us

: tél +33 (0)6 04 18 77 20

At low speed the transmission is 100% hydrostatic, i. e. an enormous torque and maximum speed at 100% mechanical maximum speed, which allows an excellent efficiency, the hydraulics allows an absolutely perfect progressivity and without any kinks.
this VARIO hydraulic gearbox combines the advantages of both technologies and allows infinitely variable and continuous variations in tractor speed
The trick is the use of a planetary gearbox coupled to the hydraulic system, it is the very clever basis for the operation of the transmission. when the hydraulic pump is in neutral no movement is made
the low flow rate of the pump allows a huge reduction in gear ratio, which gives a very high torque to the wheels, even if the diesel is idling
a little before the pump is at maximum flow rate the variable displacement hydraulic motor has started to reduce its displacement and the agricultural tractor is going faster and faster
all of this happens very gradually without any jerks
at this moment neither the hydraulic pump nor the hydraulic motor creates or absorbs flow, except internal leaks
the diesel engine drives the wheels only mechanically and no longer in hydrostatic transmission at all, it is only and directly mechanically 100%.
Around this there is a high-performance Electronics to manage all this in total automation and adapt the diesel engine speed for less fuel consumption
there's road and work speed and lots of other important little details.
least complex
it is totally forbidden (at least in france) to increase the gear beyond the legal speed, in case of accident or death, YOUR responsibility is engaged
on this forum I release all responsibility if you do illegal things
I am often asked questions about the unbridled hydraulic cracked vario, here are a few examples:
Does anyone have a trick to unbridle a hydraulic tractor vario tractor at 50 km an hour?
I want to unbridle my hydraulic split vario is it just a mechanical lock that blocks the speed at « 40 km/h », I have a 310, if I understood correctly it is just an axle or a bolt to remove?
How can a tractor with vario split open so that it travels faster on the road? I think it's possible. They are built in Germany, and so there is only a slight modification to do, disconnect a fuse (and a little more). Could you tell me more about that?
Let me answer you this: it is the same thing for hydraulic forage harvester, hydraulic harvester, hydraulic telescopic trolley and any hydrostatic transmission machine that is equipped with a pump and hydraulic motor in variable displacement, there is a way to act and drive faster, as everyone knows, but I will not tell you how to do it, because it is too dangerous and irresponsible.
Just know this,
the clamping of a split tractor vario is possible in two ways, either
there is an internal actuator acting on a cam that prevents the hydraulic motor from tipping over to zero displacement, which means that the vario is not at its maximum speed.
It is possible to control the servo motor, which controls the flow, via electronics is not fully controlled
All this is done electronically and you do not have access to it.
A question? A need? Contact us

type of tractor vario fendt
200 vario Fendt
Fendt 210 vario
211 vario fendt
Fendt 300 scr
Fendt 300 vario scr
Fendt 313 vario scr scr
Fendt vario 410
Fendt 711 vario
Fendt 820 data sheet
engine diagram Fendt 900
1000 vario Fendt
Fendt 1000 vario fs13
Fendt 1000 vario data sheet
Fendt vario 1050
Fendt vario vario vintner
vario fendt gearbox
The most common tractors according to what we see with the repair of the gearboxes varios, would be the 818,820,828 fendt.
Fendt tractor technical data sheet
vario fendt gearbox
schema box vario Fendt
transmission vario Fendt
Fendt plough
continuous variation
tractor continuously variable transmission
Fendt vario gearbox
vario Fendt function
vario fendt, boite vario fendt, boite vario fendt, vario fendt 900, boite vario fendt, fendt 1000 vario fiche technique, fendt vario 1050, fiche technique fendt 820, fiche technique tracteur fendt, schema boite vario fendt, schema moteur fendt 900, transmision vario fendt, transmission variation continue tracteur, transmission vario fendt, variation continue, vario fendt fonctionnement, vario fendt getriebe